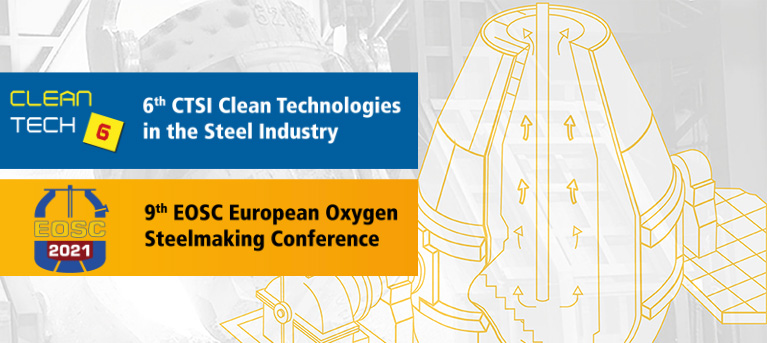 Octo­ber 17 – 21, 2022, Aachen – Ger­many
9th EOSC
The European Oxygen Steelmaking Conference (EOSC) series is organised in turn by one of the European Metallurgical Societies and Associations. As such it
represents the most comprehensive expert knowledge in steelmaking. The Conference will present the state of the art technologies and developments and discuss technology issues related to the specific requirements of oxygen steelmaking.
6th CLEAN TECH
6th European Conference on Clean Technologies in the Steel Industry will provide a forum for researchers and steel manufacturers to review recent developments in environmental protection and efficiency in steelmaking focussiong on environmental and energy aspects in iron and steelmaking.

Call for Papers - submit now!
Both events will provide a forum for best practise and state of the art technology, new developments, new ideas and research results.
About 500 experts are expected to attend. An extended exhibition area will bring together key players from above mentioned expert fields.

Become an Exhibitor
Click below to find out more about the exhibition options available:
Scope and Topics
The joint conferences are aimed at creating an opportunity for a technical exchange at an international level among the numerous experts involved in the steelmaking to inform on the latest technical achievements in all production phases and the environmental benefits of steel utilization:
Oxygen steelmaking
Environmental and energy aspects in iron and steelmaking
The Steel Institute VDEh and all cooperating organizations are committed to adhering strictly to all applicable antitrust laws. Within the context of 9th EOSC + 6th CTSI CLEAN TECH it is strictly prohibited to discuss competitively sensitive subjects such as price-fixing agreements or agreements on quantities.